[ 13.11.2018 ]
Showing the best films of the VII International festival of sport and tourist films "GOLDEN PEAK»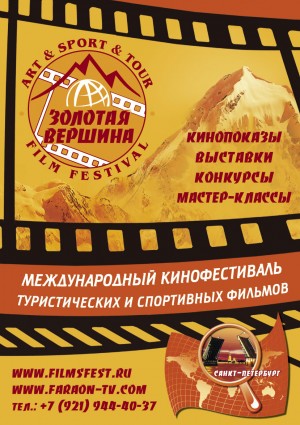 On November 21, at 16-30 in the cinema center "Rodina "will show the best films and the ceremony of awarding the winners of the VII International festival of sports and tourist films"GOLDEN PEAK".
The festival will be held as part of the St. Petersburg International cultural Forum.
The film festival presents a unique project of its kind, both professional and Amateur cinema, covering dozens of countries and cities. Life without travel, new experiences, nature and sports is unthinkable, knowledge of the world becomes an incentive to a healthy and vibrant life. Cinema in all its diversity becomes the main assistant, friend and companion of travelers.
At the festival" GOLDEN PEAK " the viewer will be able to experience a variety of emotions, seeing a lot of countries and cities with their features, history and culture, hard-to-reach places of the planet, where the authors of the films still manage to get!
At the VII International Festival of tourist and sports films
"GOLDEN PEAK" will feature the best works created by filmmakers from 26 countries - Austria, Armenia, Afghanistan, Belarus, Germany, Greece, Denmark, India, Iran, Spain, Kazakhstan, Poland, Portugal, Russia, Romania, Serbia, Slovenia, Turkey, Uzbekistan, Ukraine, Finland, Croatia, Czech Republic, Switzerland, Sri Lanka, South Ossetia and
from 14 cities of Russia - Angarsk, Vyborg, Kazan, Luga, Moscow, Novosibirsk, Omsk, Orenburg, Petrozavodsk, Pushkin, St. Petersburg, Ufa, Chelyabinsk, Yaroslavl.
The program presents an extensive panorama of world cinema-in 2018, viewers will see films about different countries: Argentina, Armenia, Afghanistan, Bolivia, Georgia, Indonesia, Kyrgyzstan, China, Nepal, Norway, the United Arab Emirates, Uganda, Chile;
about the unique tourist sites of lake Baikal, of the Kolyma river, Ladoga and Lena, Khibiny massif, the peak of Victory, Badzhalsky range, Altiplano plateau, the route Zhuravleva, ridge Chersky; about the attractions of the regions: the Arctic, Africa, the Himalayas, Caucasus, Karelia, the Leningrad region, Patagonia, Sakhalin island, Solovki, Siberia, Tien-Shan, Tibet, the cities of Arkhangelsk, Yoshkar-Ola, Kathmandu, Moscow, Saint Petersburg.
In addition to films about travel, there are many films about sports-mountain climbing, water rafting, kayaking, climbing, kungfu, VIN-Chun, paragliding and sledding.
At the GOLDEN PEAK film Festival, you will be pleased with feature, documentary and animated films about friendship, unique places of the planet, nature reserves and the importance of their preservation.
The films-participants of the Festival also deal with other interesting, important topics: features of travelling with young children and the whole family, hitchhiking, and space "travel"; the romance of the work of geologists and paleontologists; the problem of vandalism and the importance of preserving the unique cultural facilities; children's friendship, teenage love and relationships between parents and children.