[ 18.04.2018 ]
Shooting a film under the working title " Jump in the middle Kingdom»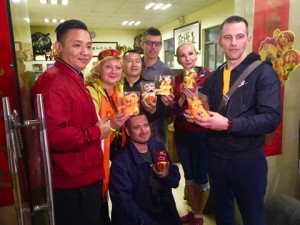 Film Studio "PHARAOH "in China, in the city of Foshan, began filming the movie under the working title"Jump in the middle Kingdom"!
Filming is dedicated to the martial art of Wing Chun (whale. other locations — the "Eternal spring"). VIN-Chun is a Chinese school of Wushu, which uses a variety of combat techniques. Fight in VIN-Chun is based on the principles which are comprehended by the pupil from training to training. Legends traditionally link the origin of the Wing Chun style with the southern Shaolin monastery in Fujian province.
It is no accident that Foshan city was chosen for the filming, because this part of China stands out against the background of modern urban landscapes of megacities with its ancient streets and original buildings. It is in Foshan that ancient Chinese arts and traditions are still preserved - painting and calligraphy, lion Dance, Yu Choi - Yu Kai School, pan Nam Wing Chun School and other centers for studying and preserving the unique martial arts of China.
Foshan (literally: "Buddha Mountain") - an ancient trading city, has long been famous for its porcelain factories and silkworms. Nowadays it is a city district in the center of Guangdong province, China, in the Pearl river Delta.
The places of filming under the working title "Jump in the middle Kingdom" were such attractions of the ancient city of Foshan as: Taoist temple of the ancestors - the oldest building in 1085; operating Buddhist temple, where you can see these monks and many Buddhist relics; Mount Guan Yin-Goddess of mercy and compassion, the patroness of women and wishing to have offspring, a giant statue of which flaunts on Mount Xijiao; Museum of IP Man, dedicated to the life of a master of martial arts, a representative Of; the red Jonqui Museum, named after the traditional Chinese ship; the school of Calligraphy and Chinese painting, which occupied an important place in the culture of ancient China; the school of lion dance, which is a traditional form of dance in Chinese culture, in which performers mimic the movements of the lion, acting in special costumes.
Despite the fact that filming began on April 13 - Friday, work went wrong well and the filming day was amazing! All the rules of cinema at the site broke into the happiness of a plate with the name of the movie.