[ 06.02.2016 ]
On February 6, 2016 passed the XII festival of tourist and sports movies "Hundred Roads"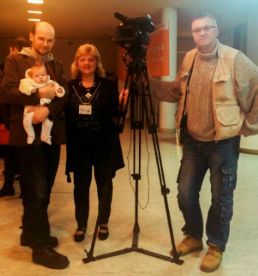 «The Hundred Roads» festival is the largest festival of the independent film of this subject, all a post of the Soviet space. The extensive panorama of world amateur cinema - 37 author's movies from Russia was presented in the program, to France, Croatia, Serbia, by Maldiv, Ukraine, Kyrgyzstan and Latvia. Movies were estimated in 5 nominations - "tourism", "sport", "clip", "fiction film", "the one-minute movie", lasting from 1min -16 min. Entered into JURY of the XII festival "HUNDRED ROADS" of video competition: Svetlana NASENKOVA (chairman), Victor Vasilyev, Irina Arkhipova, Nina Tabakova, Nikolay Kapranov, Sergey Shuty. Entered into jury of a photo contest: Dmitry KOSHCHEEV (chairman), Galina Lebedeva, Konstantin Golubev, Alexander Roshchin. Within a festival there took place the photo exhibition on subjects: tourism, extreme sports, landscape and nature. A main goal of a festival is support and promoting of the fans creating unique movies about different corners of the Planet. Movies of the Hundred Roads festival, differ in the eccentricity and originality. The festival was opened by the movie of a film studio of the historical movie "PHARAOH" - "Maldivian Fairytale". The Grand Prix deservedly handed to Alexey Ovsyannikov for the movie "Fourth" who was awarded also by a special prize from a film studio "PHARAOH". The movie "Siden Norwegian" of Andrey Butorin won the PRIZE of SPECTATOR SYMPATHIES, a name E Prize. A. Rozovsky "FOR OPERATOR SKILL", and, also, special prize from the Film studio "PHARAOH". It is important to note that Eduard Aleksandrovich Rozovsky-the cameraman, the People's artist of the Russian Federation, the Honored worker of arts of RSFSR the teacher, professor, the manager of chair of operator art SPBGUKiT, shot about 80 movies. Among them: "Amphibian person" (after shootings of this tape in his diving book there was a record about 465 hours spent under water), "The white sun of the desert", "Don Quixote", "the Chief of Chukotka", "Silva" etc. was the Chairman of jury of 8 film festivals "Hundred Roads ".
The I place in the nomination "Tourism" was taken by Yury Ananyev's movie "Mummy, at me everything will be good". The I place in the nomination "Sport" - Oleg Dolzhenkov's movie "Not dream". The I place in the nomination "Fiction film" was received by Boris Yakhnis for the movie "Coma". The I place "The track at fall" took Vitaly Shmatchenko in the nominations "Clip". The I place in the nomination "One-minute Movie" was taken by Anatoly Danchenko's movie "A black spot".
Storm of applause Sergey Shuty's movie "Fog" deserved. Audience expressed huge gratitude to the Chairman org. committee to Sergey Shutom and his team for the fine organization and holding a festival.